CAS# 8008-99-9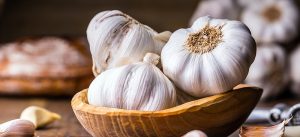 Description
Garlic (also known as Allium sativum) is grown all across the world, and is mainly used as an ingredient for cooking, as it adds a lot of flavour. Along with this, garlic has many medical benefits, mainly regarding the heart, such as blood pressure regulation.
CAS# 8008-99-9
Nutraceutical Ingredient
Available in 4:1, Allicin 0.2%-2%, and HPLC/Alliin 2%-20%
Country of Origin: China
Packaging: 25kg
Characteristic Typical Analysis
Description: Light yellow powder
Sieve Analysis: 95% pass 80 mesh
Loss on Drying: 5% Max
Arsenic: NMT 2ppm
Cadmium: NMT 1ppm
Lead: NMT 2ppm
Mercury: NMT 0.1ppm
Heavy Metals: 20ppm Max
Storage: Store in a well-closed container away from moisture.