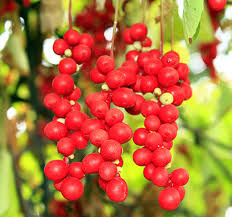 Description
Schisandra (Schisandra chinensis) is a plant that grows berries. The berries are used for medicinal purposes. The chemicals in Schisandra improve liver function by stimulating enzymes in the liver and promoting liver cell growth.
Nutraceutical Ingredient
Available in 4:1, 10:1, and 25:1
Country of Origin: China
Packaging: 25kg
Characteristic Typical Analysis
Description: Light brown powder
Loss on Drying: < 5%
Particle Size: NLT 95% through 60 mesh
Heavy Metal: < 10mg/kg
Arsenic: < 1.0mg/kg
Lead: < 1.0mg/kg
Cadmium: < 1.0mg/kg
Mercury: < 0.5mg/kg
Storage: Store in cool and dry place. Do not freeze. Keep away from strong light and heat.