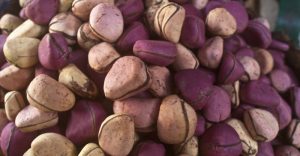 Description
The Kola nut (Cola Acuminata) is the fruit of the Kola tree, found primarily in African countries. It contains caffeine, which makes it effective at providing energy and boosting physical performance. In western societies, it is mainly used as a flavouring agent, for drinks such as cola.
Nutraceutical Ingredient
Available in 10%
Country of Origin: Nigeria
Packaging: 25kg
Characteristic Typical Analysis
Description: Red/brown fine powder
Particle Size: NLT 90% through 80 mesh
Loss on Drying: NMT 10%
Ash: NMT 20%
Bulk Density: Between 30~70 g/100ml
Residue of Solvents NMT 5000ppm
Heavy Metals: NMT 10 ppm
Lead: NMT 2.0 ppm
Arsenic: NMT 2.0 ppm
Cadmium: NMT 1.0 ppm
Mercury: NMT 1.0 ppm
Storage: Store in tight, light-resistant containers, avoid exposure to direct sunlight, moisture and excessive heat.