CAS# 84961-57-9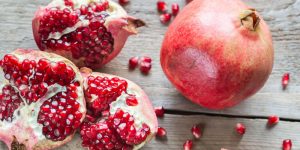 Description
Pomegranate (punica granatum) is a fruit bearing shrub usually grown in South Asia and Africa. Pomegranates are considered to be one of the healthiest fruits on the planet, as they contain many vital nutrients, and also help with inflammation.
CAS# 84961-57-9
Nutraceutical Ingredient
Available in 30-90% Punicalagins, 75-90% Polyphenols, and 40% Ellagic Acid
Also Available in Pomegranate Oil (Pure)
Country of Origin: India
Packaging: 25kg
Characteristic Typical Analysis
Description: Brown/yellow powder
Loss on Drying: NMT 5%
Mesh Size: MT 98% through 80 mesh
Ignition Ash: NMT 5%
Total Heavy Metals: NMT 20 ppm
Arsenic: NMT 2 ppm
Storage: Store in cool and dry place. Keep away from strong light and heat.