CAS# 84929-51-1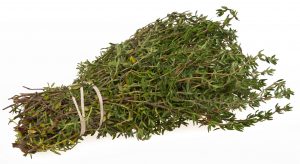 Description
Thyme is a herb mainly used for food and cooking, but also has medicinal purposes. It is mainly used to treat throat related issues, such as bronchitis, whooping cough, and sore throat pain.
CAS# 84929-51-1
Nutraceutical Ingredient
Available in 4:1 and 10:1
Country of Origin: China
Packaging: 25kg
Characteristic Typical Analysis
Description: Brown/yellow powder
Sieve Analysis: 100% pass 80 mesh
Moisture Content: NMT 5.0%
Arsenic: NMT 2ppm
Cadmium: NMT 1ppm
Lead: NMT 2ppm
Heavy Metals: 20ppm Max
Storage: Store in a well-closed place with constant low temperature and no direct sun light.