CAS# 84082-80-4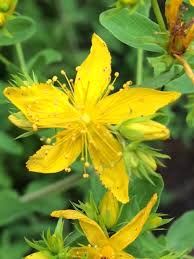 Description
St. John's Wort (Hypericum perforatum) is a flowering plant used to make medicine. It is mainly used to treat symptoms of depression, as well as nervousness, tiredness, and anxiety.
CAS# 84082-80-4
Nutraceutical Ingredient
Available in Hypericins 0.3-0.6%
Country of Origin: China
Packaging: 25kg
Characteristic Typical Analysis
Description: Dark brown fine powder
Sieve Analysis: 95% through 80 mesh
Bulk Density: 30 ~ 70g/100ml
Loss on Drying: NMT 10%
Lead: NMT 2.0ppm
Arsenic: NMT 2.0ppm
Cadmium: NMT 1.0ppm
Mercury: NMT 1.0ppm
Storage: Store in tight, light-resistant containers, avoid exposure to direct sunlight, moisture and excessive heat.